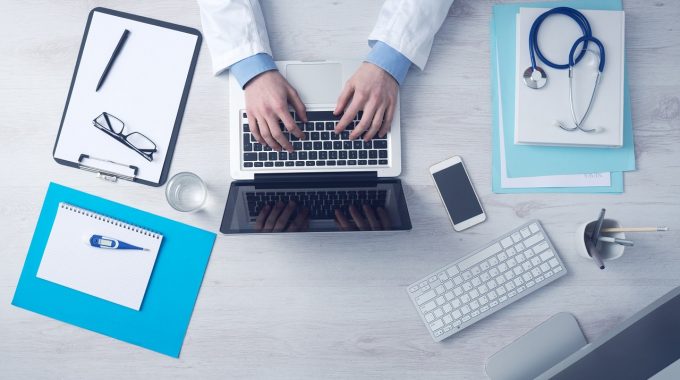 Practise what you preach? 3 easy ways to improve your health at work
Medical professionals know better than most the importance of looking after one's health. Considering we spend much of our day in the workplace – whether it's a clinic, hospital or office – it's important to be mindful of our healthy (and unhealthy) habits.
However, like a plumber's leaky tap, this is easier said than done.
According to the 'Health Profile of Australian Employees' report released by Workplace Health Association Australia, around 1 in 10 (12.0%) workers had high blood pressure and nearly a quarter (23.8%) had high cholesterol in 2013. Alarmingly, a huge 65.1% of employees reported moderate to high stress levels, and 41% had psychological distress levels considered to be at-risk.
So, do you practise what you preach in your workplace?
Here are a few easy and effective tips you can implement today to make your '9 to 5' better for your health.
Get your desk right
Making sure you're sitting right at the computer has benefits not only for your neck and back, but can also improve your focus. Ensure the monitor is at eye level and your chair is adjusted so feet are flat on the ground and arms are relaxed at 90 degrees when typing or writing.
Better yet, consider alternating between your usual desk and chair, to a standing desk for a few hours throughout the day.
Drink more water
Not only is drinking more water good for your body and helps minimise your intake of sugary alternatives, the more water you drink, the more you'll have to get up to fill up your glass (and walk to the bathroom) – reducing your sedentary behaviour and making your workday more active.
Reduce stress when possible
As you know, stress has a number of adverse effects on your health – mentally and physically. Working as a medical professional, stress is not something you can completely avoid, though understanding which situations make you feel overwhelmed or anxious is a great start to combating these feelings.
If you're currently swamped with administration, mi-Support can help take a load off. Our mi-Transcriptions service is ISO accredited and can provide you with same-day turnaround on request. mi-Bookings can provide a professional reception service to answer your calls promptly and manage your diary efficiently – and use your existing phone number.
To find out more, call us today on 1300 642 546.